Welcome to our holiday resort
"RENNSTEIG-CARAVANING VALENTINSTEICH"
Since summer 2004 we have opened our doors for mobile tourists and spa guests. The individual designed campsites fulfill every expectations. 
Our camping site is situated in a beautiful hilly area, surrounded by wild green nature with healthy climate and far from hectic traffic.
Your camper van or caravan will find generously parceled or freely selectable lawns, your tent will find a cozy dreamily corner and your tired legs from cycling and hiking you can relax in one of our comfortable bungalow accommodation.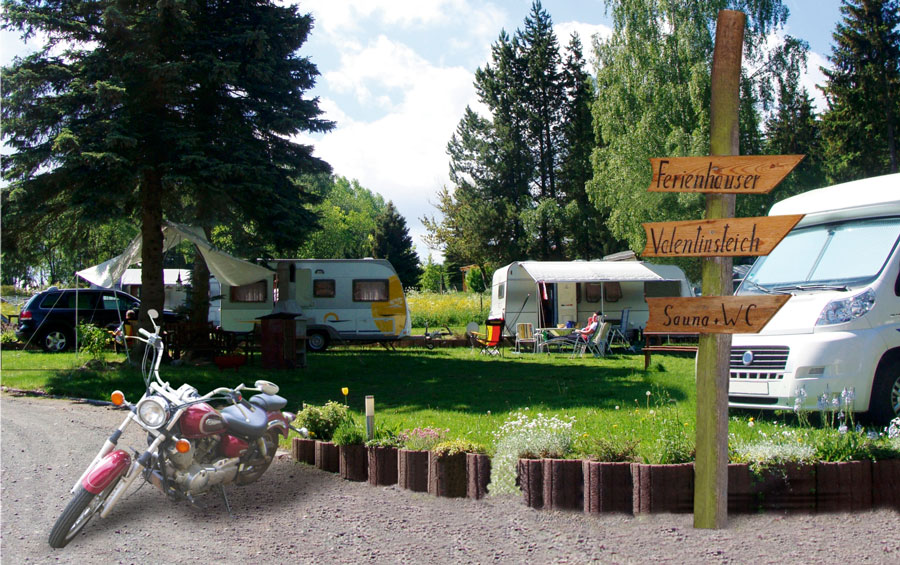 ✆ Phone
Monday to Sunday
+49 (0) 36 23 - 31 07 75
+49 (0) 1 74 - 6 90 28 99
Finsterbergen – on the sunny side of the Rennsteig
If you into hiking, cycling or cross-country skiing and love to enjoy the peace and variety of nature; and you like to be indulge yourself with good cuisine you will be just right in the state-approve "health resort" Finsterbergen.
The holiday resorts around the "Inselberg" work in a close cooperation, to form your holiday even more varied. You can take advantage of the shared guest card, which entitles you to many perks, for example to use all the local transports for free. Therefore, you can combine your hikes or bicycle tours with the public transport.
Benefits from Finsterbergen:
Tourist information, health resort treatments, massages and wellness at the "Haus des Gastes"
Original Thuringia cuisine and shopping possibility
Bus station
Local history museum, a listed Fuhrmann house
Baroque church from 1730 century, with colorful equipment
Plenty of cure- and hiking trails as well as cycling- cross-country skiing trails next or at the "rennsteig" through grasslands or forests
"Hainfels" the longest rock face in Thuringia forest
Spa garden with bandstand and spa concert on Sundays
A modern swimming pool with a big slide; adventure pool; nudism lawn; miniature golf; beach volleyball; playground; park own railway and diner
neighborhood:
Rennsteig one of the most famous hiking trails in eurpoe
National park "Hainich" a UNESCO-world natural heritage
"Inselberg" with "Sommerrodelbahn" an fun park
Cave names "Marienglashähle" in Friedrichroda
The TABBS adventure swimming pool in Tabarz
Winter sport venues in Oberhof
Castle "Friedenstein" in Gotha
Castle "Wartburg" in Eisenach
State capital Erfurt with cathedral, old city part "Krämerbrücke" and huge park EGA
Cultural city Weimar Contact
Rennsteig-Caravaning Valentinsteich Friedrichrodaer Weg 3a OT Finsterbergen 99894 Friedrichroda
✆ +49 (0) 36 23 - 31 07 75
Rennsteig Caravaning Valentinsteich
GPS: 50°50´26´´ N, 10°34´53´´ E
Navi-App aufrufen für das Ziel:
Rennsteig-Caravaning Valentinsteich